Skillet Chicken Fajitas
Skillet Chicken Fajitas are ready in about 30 minutes (plus time to marinate the chicken). A perfect weeknight dinner that can be served so many ways!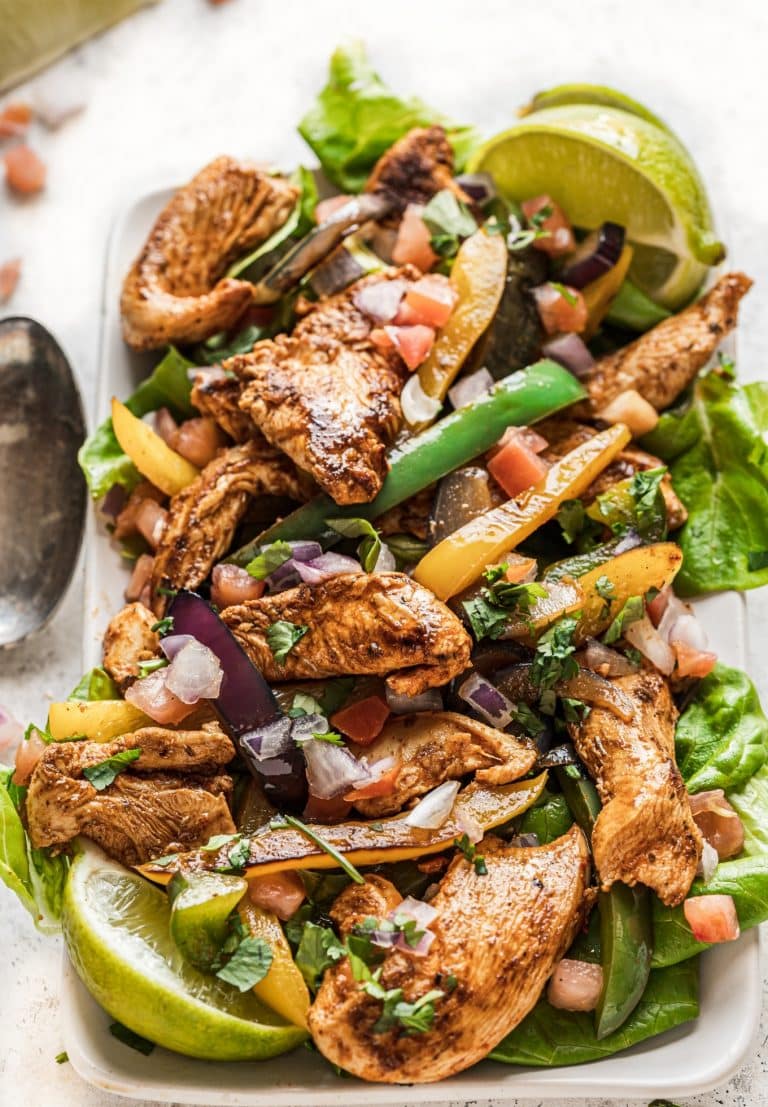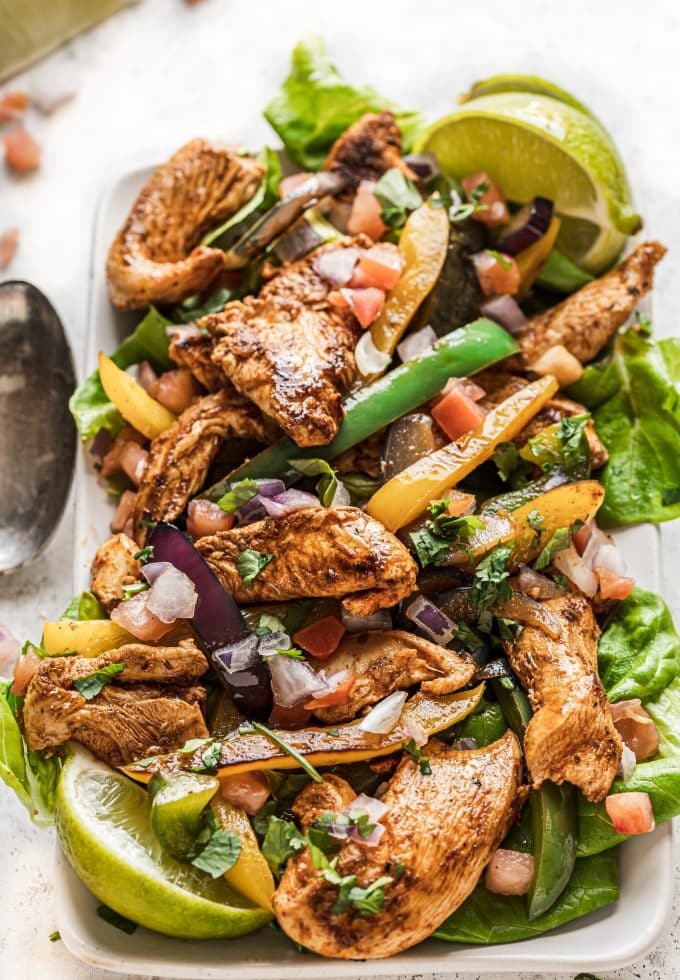 Update: This recipe was originally published in 2018 and has been republished with all new photos and updated recipe instructions.
Fajitas are such a mealtime win, aren't they? They take such little work and are loaded with bold flavors the whole family will enjoy.
Sometimes we enjoy this chicken in tortillas (the classic way) but other times I love to serve them up on rice or lettuce.
And then of course there are so many toppings you can add to customize this delicious meal for each individual person. Want cheese? Add a sprinkle of shredded cheddar or crumbled feta! Love avocado? Add a few slices or guacamole! The list of possible toppings is long and however you serve up this chicken, you'll be pleased!
For this recipe you'll need (full list of ingredients and instructions are in the recipe card below):
Chicken breasts
Olive oil
Lime juice
Onion
Bell Peppers
Seasonings
We'll start by slicing the chicken into strips. While you could of course sauté the chicken breasts whole, I've found that taking the extra two minutes to slice them means you'll get more of that marinade on each bite.
Then toss the marinade ingredients and chicken together to marinate for at least 30 minutes. This gives your chicken so much flavor! That lime gives it all a bright punch that I really love!
Slice the peppers and onion into thin strips. Sauté both in olive oil in a large skillet so they start to get tender and have some charred edges. Then add your marinated chicken so that it cooks through.
That's it! Now you're ready to serve in a variety of ways. (I've listed my favorite serving ideas below.)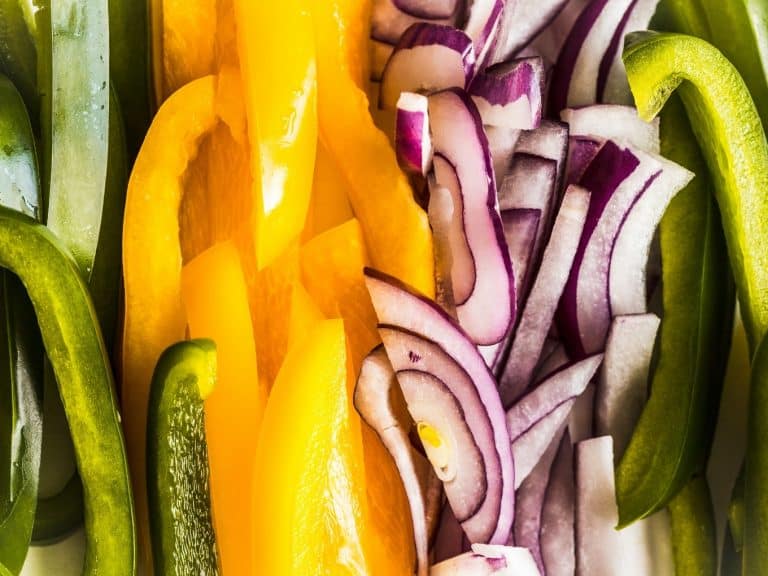 Is homemade fajita seasoning worth it?
Heck yes it is. While you can certainly use store-bought taco or fajita seasoning, I highly recommend making your own with just a few ingredients. It doesn't take much time at all, but it produces some big flavor! And then you know that you're avoiding all the unnecessary additives that often go into seasoning blends you'll find at the grocery store.
Can you use chicken thighs?
Absolutely. You can always use boneless skinless thighs if you prefer.
What color bell pepper is best to use in fajitas?
I love a mix of colors! I usually use one green and one yellow, orange, or red. But any color bell pepper will work beautifully!
What color onion is best for fajitas?
White, yellow, or red onions are all great in fajitas. I tend to grab the red onion because I love that it's a bit sweeter than the others and the color is so pretty with the other ingredients.
How long should you marinate the chicken
I always like to marinate this chicken for at least 30 minutes and up to 12 hours. The longer you marinate the more pronounced the flavor will be. I don't recommend longer than 12 hours because your meat can start to breakdown and the texture changes if it sits in a marinade for too long. (That goes for any marinade.)
Are chicken fajitas good for meal prep?
They're so great for meal prep, friend! Just portion out what you want to enjoy for the next few days in airtight containers. Store in the refrigerator for up to 5 days. Reheat on the stovetop or in your microwave.
How to serve this
The obvious way to serve these Skillet Chicken Fajitas is of course in tortillas. Load them up with the chicken, peppers, and onion. Serve with a side of rice!
Want to do something a bit different but still super satiating? I love to throw mine on Skillet Breakfast Potatoes or white rice.
Thinking of going more low carb? This chicken is delicious on Cilantro Lime Cauliflower Rice or on lettuce.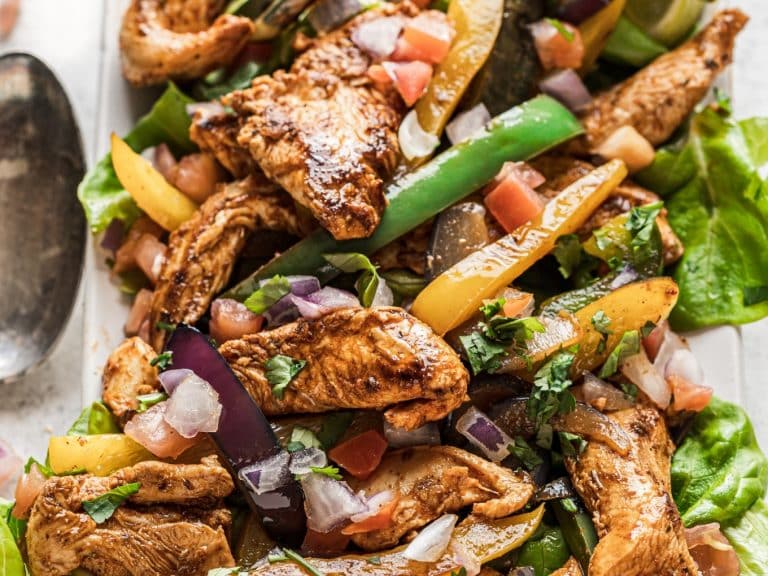 Whatever you choose to do with it, don't forget to add your favorite toppings! Some ideas are Guacamole, Pico de Gallo, store-bought salsa, black beans, shredded cheese, feta crumbles, sour cream, avocado slices, and/or fresh cilantro. There's so much you can do!
More recipes like this:
Slow Cooker Chicken Fajita Soup
Garlic Crushed Red Pepper Chicken Stir Fry
15-Minute Italian Chicken & Peas
Skillet Chicken Fajitas
Skillet Chicken Fajitas are ready in about 30 minutes (plus time to marinate the chicken). A perfect weeknight dinner that can be served so many ways!
Ingredients
Marinade:
4 tbsp lime juice
1 tbsp olive oil
1 tsp chili powder
1/2 tsp garlic powder
1/2 tsp onion powder
1/2 tsp dried oregano
1/4 tsp paprika
1/4 tsp cumin
1/4 tsp salt
Chicken, Onions, & Peppers
2 lbs chicken breasts, boneless and skinless, about 4 chicken breasts
2 tbsp olive oil, extra virgin
1 large onion, any color
2 medium bell peppers, I use one green and one red, orange, or yellow
salt and pepper to taste
Optional Toppings: Guacamole, Pico de Gallo, fresh cilantro, green onions
Instructions
Slice your chicken breasts into thin strips. Toss in a gallon Ziplock bag with marinade ingredients. Remove air from the bag and close tightly. Use your fingers to massage the chicken and make sure your marinade is evenly distributed. Set aside for 30 minutes or up to 12 hours.

Cut off and discard the top of your peppers. Remove the seeds. Cut peppers into thin strips.

Cut onion into thin strips.

Heat 2 tablespoons of oil over medium high heat in a large skillet. Add the pepper and onion slices. Cook for 3 – 4 minutes or until they're tender. Sprinkle with salt and pepper, remove from skillet, and set aside in another dish.

Add your chicken to the skillet. Cook on each side for 2 – 3 minutes. Chicken should have some charring.

When chicken is done add your onions and peppers back to the skillet and stir everything together. Serve immediately with Guacamole, Pico de Gallo, or any of the other suggested toppings I've listed above this recipe card.
Notes
Nutrition information does not include any additional toppings, tortillas, lettuce wraps, etc since there are so many ways to fajita and everyone does it differently! You can find nutrition info for Guacamole, Pico de Gallo, and Cilantro Lime Cauliflower Rice on those recipes.
Nutrition
Serving: 1g, Calories: 260kcal, Carbohydrates: 6g, Protein: 33g, Fat: 11g, Saturated Fat: 2g, Trans Fat: 1g, Cholesterol: 97mg, Sodium: 281mg, Potassium: 698mg, Fiber: 1g, Sugar: 3g, Vitamin A: 1436IU, Vitamin C: 57mg, Calcium: 22mg, Iron: 1mg