Air Fryer Chicken and Vegetables
This healthy air fryer chicken and vegetables meal is quick and tasty. Ready in just 25 minutes!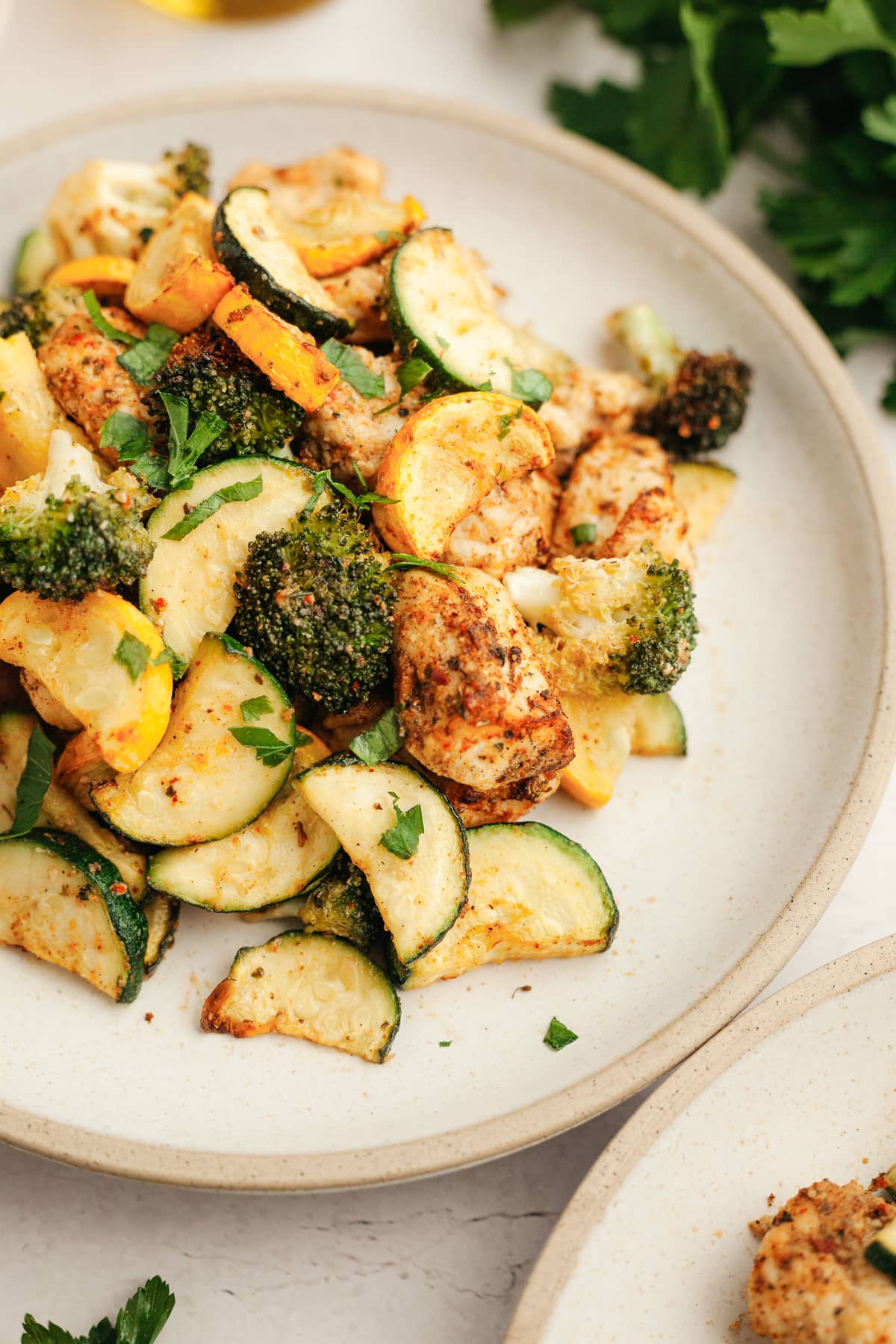 My family's evenings are especially busy this time of year thanks to kids' sports and homework. I know so many of you can relate! A fast meal like Air Fryer Chicken and Vegetables in the perfect solution on nights like these. This recipe eliminates the need to hit the drive thru. Instead I can throw together a nutritious meal before we head out the door or tackle sixth grade math problems that I don't understand.
For this recipe all have you do is chop. That's really it. Then toss it all in the air fryer with oil and seasonings. Voila! Dinner is done!
For this recipe you'll need (full list of ingredients and instructions are in the recipe card below):
Chicken breasts
Zucchini
Squash
Broccoli
Olive or avocado oil
Seasonings
Should you preheat your air fryer?
Absolutely preheat the air fryer whenever possible. Even just a few minutes can help! But know that if you forget it will still work out. You might just require a few extra minutes of cooking at the end.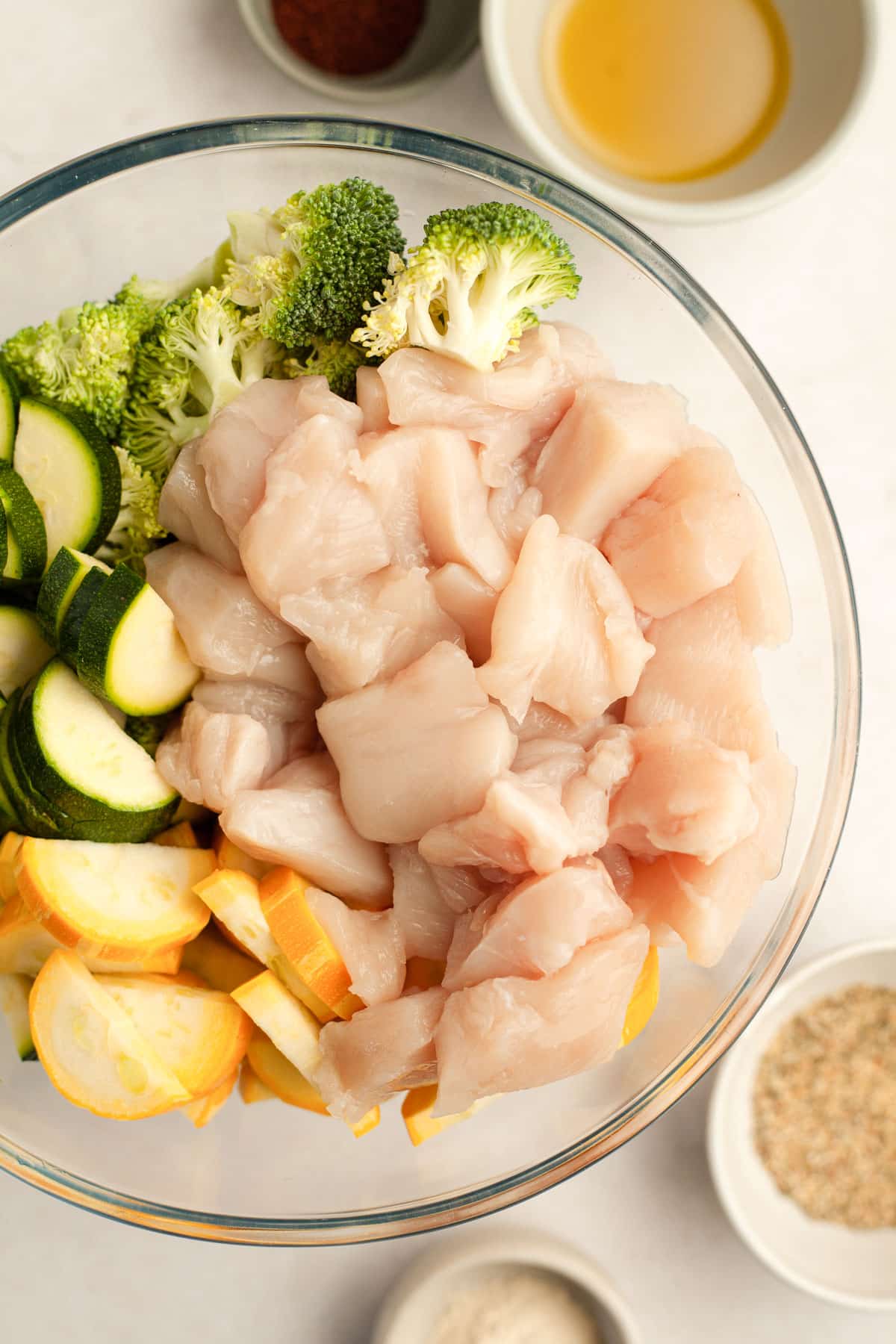 Which air fryer do I recommend?
These days I have two air fryers that I use and love. Both are large enough to accommodate this recipe. (I don't recommend using a compact air fryer to cook this amount of food unless you're cooking in 2 to 3 batches.)
This GoWise 7 Quart Air Fryer is my favorite basket style option. It holds a lot of food and is reasonably priced for an air fryer of this size. Since your food cooks in a fairly deep basket you'll want to be sure to stir or shake the ingredients about halfway through cooking.
This Cuisinart Air Fryer can also be used as a convection oven and toaster. It's more expensive but I decided it was worth the investment once I learned how much I was using my air fryer. This beauty now sits on my counter full-time since I use it every day!
Can you roast in the oven instead?
Yes! Toss the chicken and veggies in oil and seasonings. Spread all the ingredients in a single layer on a large baking sheet. Place in the oven and bake at 425 degrees for 15 to 20 minutes. Stir halfway through cooking time.
Does this meal freeze well?
Yes! If making this meal for future enjoyment you can freeze it in an airtight freezer safe container (like freezer bags). Then thaw and reheat in a skillet on the stovetop or in the microwave.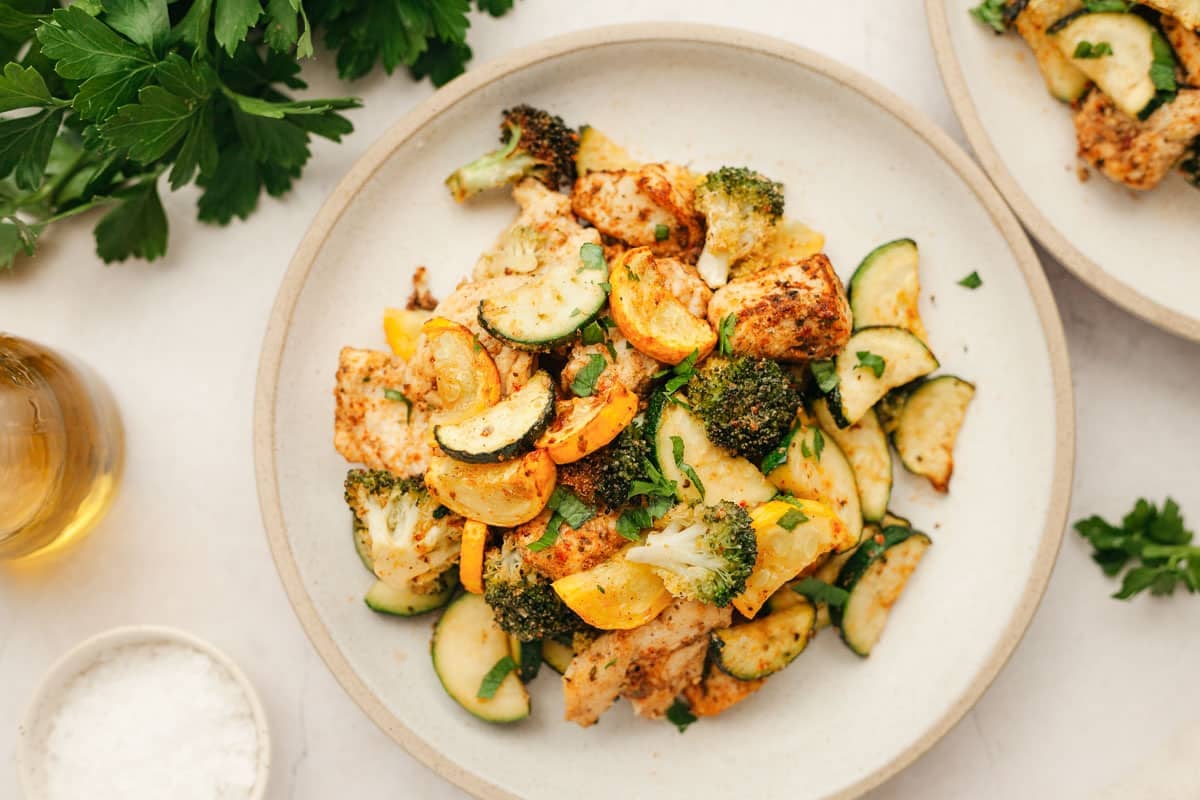 How to serve this
If you'd like to keep this meal low carb, serve with a simple side salad. My latest salad is an Easy Kale Salad with Honey Lemon Dressing and it would be delicious with this.
To make this meal more satiating, serve with brown rice or my Baked Herb Potato Rounds.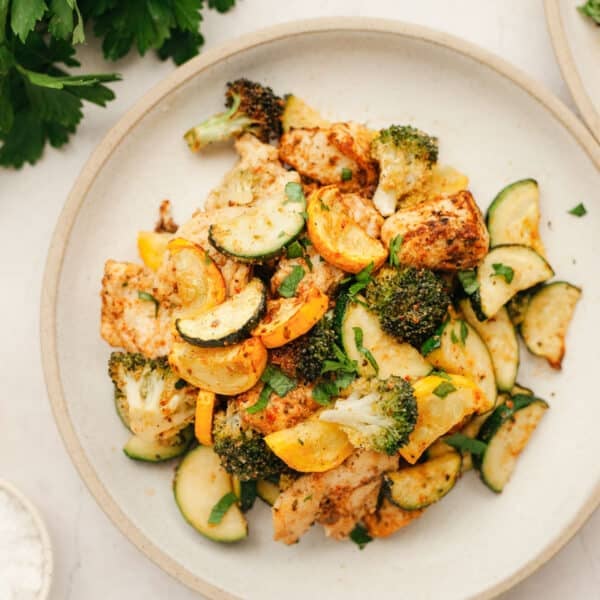 Air Fryer Chicken and Vegetables
This healthy air fryer chicken and vegetables meal is quick and tasty. Ready in just 25 minutes!
Ingredients
1 lb chicken breasts, skinless and boneless, chopped into 1-inch chunks
2 medium zucchini, sliced into 1/2 circles
1 medium squash, sliced into 1/2 circles
2 cups broccoli florets
2 tbsp olive or avocado oil, can use an avocado oil spray
1 tbsp italian seasoning
1 tsp garlic powder
1 tsp onion powder
¾ tsp chili powder
¾ tsp salt
½ tsp black pepper
Instructions
Preheat air fryer to 400 degrees.

Add the chicken, zucchini, squash, and broccoli to a large mixing bowl. Add olive or avocado oil (or generously spray with oil spray). Season with italian seasoning, garlic powder, onion powder, chili powder, salt, and pepper. Stir so that the chicken and vegetables are coated.

Add the seasoned chicken and vegetables to the preheated air fryer. Cook for 10 minutes. Stir. Cook for another 5 to 10 minutes, until chicken is cooked through and vegetables are tender.Cooking time can vary based on the model air fryer used and the size of the air fryer. See notes for more information.
Notes
Air fryer cooking time always varies based on the type of air fryer you use. A large convection oven style air fryer will cook faster because your food isn't piled on top of each other. A compact basket air fryer will take the most time and may require that you cook this recipe in two or three batches. As you use your air fryer regularly you'll start to get a better feel for how quickly or slowly yours cooks.   Nutrition information assumes you used 2 tbsp of extra virgin olive oil. If you use a 100% avocado oil spray instead your total calories for this recipe will be reduced by as much as 248 calories (about 60 calories per serving).
Nutrition
Calories: 240kcal, Carbohydrates: 10g, Protein: 27g, Fat: 11g, Saturated Fat: 2g, Polyunsaturated Fat: 1g, Monounsaturated Fat: 6g, Trans Fat: 1g, Cholesterol: 73mg, Sodium: 599mg, Potassium: 988mg, Fiber: 4g, Sugar: 4g, Vitamin A: 745IU, Vitamin C: 68mg, Calcium: 75mg, Iron: 2mg