Lemon Herb Roasted Chicken
This Lemon Herb Roasted Chicken is simple and flavorful. It's an absolute winning dish that's going to make your kitchen smell like heaven.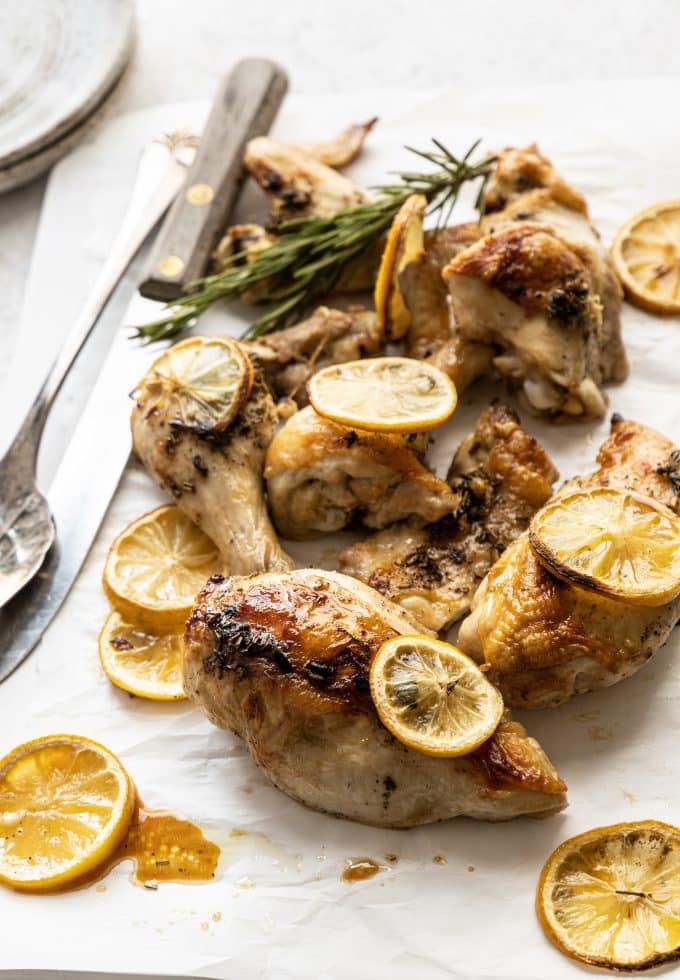 Update: This recipe was originally published in 2018 and has been republished with all new photos.
Name a food that's more comforting than roasted chicken. I just don't think there is one.
When I'm roasting chicken I usually cook the whole chicken at one time (check out my Orange Herb Roasted Chicken with Potatoes) but we're shaking it up. Actually we're cutting it up. Roasting the chicken after butchering it ensures the meat will really absorb every bit of the glorious marinade. Oh and it's glorious, friend.
Lemon, garlic, and plenty of fresh herbs. Basically all of my favorite things.
The finished product looks like a feast. You will seriously feel like Julia Child when you pull that baking sheet out of the oven. Bask in it. Let everyone rave about what a gifted chef you are. Act like it was incredibly hard to make. (It's not.) You deserve all those accolades.
For this recipe you'll need (full list of ingredients and instructions are in the recipe card below):
Chicken
Olive oil
Lemon juice
Minced garlic
Fresh rosemary
Fresh oregano
Lemons
Now let's get cooking.
To make this you'll want to lay your chicken pieces on a baking sheet. I use a smaller baking sheet so that all the marinade is forced to mingle with every piece of chicken. The one I go with is 9 x 13. (For perspective I use a 12 x 17 when I'm making sheet pan meals.) You're more than welcome to use a larger one though.
In a small bowl combine all other ingredients and give them a quick stir. Then pour it over your chicken. Bake and you're done! It's so simple, right? But that finished product looks like you spent the entire day in the kitchen!
Buying the whole chicken vs buying it already butchered
if you're interested in butchering the chicken yourself and haven't done it before here's a video that will help. It may feel intimidating but it's surprisingly easy to do. Plus buying an entire chicken is such a money saver! I can buy a whole chicken for $6 to $8. That's enough to feed 6 people!
If you do purchase your chicken already butchered you'll likely find that you get 8 pieces. That means they've given you two breasts. Simply cut the breasts in half and then you'll have ten total pieces.
Can you use dried herbs instead of fresh?
I think it's worth using fresh herbs here if possible. You're welcome to use dried rosemary and oregano but keep in mind that dried will have more concentrated flavor. If a recipe calls for fresh herbs and you're using dried, use about 1/3 of the listed amount. Since this recipe calls for 1 tablespoon of each herb, you'd want to do 1 teaspoon of each instead.
How to serve this
I enjoy this chicken with Light & Creamy Mashed Potatoes and Garlic Green Beans. Other sides that would work beautifully are Rosemary Garlic Smashed Potatoes, Herb Roasted Brussels Sprouts & Broccoli, and Sautéed Broccoli.
More recipes like this:
Sheet Pan Chicken with Potatoes & Zucchini
Oregano Lemon Chicken & Potatoes
Sheet Pan Lemon Chicken Dinner
Lemon Herb Roasted Chicken
This Lemon Herb Roasted Chicken is incredibly easy to make. Each piece is perfectly roasted, tender, and flavorful.
Ingredients
1 chicken, cut into 10 pieces
1/4 cup lemon juice
2 tbsp olive oil, extra virgin
1 tbsp minced garlic
3/4 tsp salt
3/4 tsp black pepper
1 tbsp fresh rosemary, chopped
1 tbsp fresh oregano, chopped
2 lemons, cut into thin circles
Optional: a little extra fresh herbs to add after baking
Instructions
Preheat oven to 450 degrees.


Spread your chicken on a baking sheet (I use a 9 x 13 for this recipe but you can go bigger if that's what you have).


Combine all other ingredients except the lemon slices together in a bowl. Give it a quick stir and pour over your chicken.


Add your lemon slices to the baking sheet on top of and/or in between the chicken pieces.


Place in the oven and bake for 30 minutes. Remove from the oven. Spoon some of that lovely pan gravy and an extra pinch of fresh herbs onto the chicken as you plate it!
Notes
You can purchase a chicken that's already been cut up (if it's in 8 pieces go ahead and cut the breasts again so you have a total of 10 pieces). If you prefer to cut up the chicken yourself here's an easy video to show you how.
Nutrition
Calories: 329kcal, Carbohydrates: 4g, Protein: 24g, Fat: 23g, Saturated Fat: 6g, Cholesterol: 95mg, Sodium: 380mg, Potassium: 300mg, Fiber: 1g, Sugar: 1g, Vitamin A: 180IU, Vitamin C: 25.5mg, Calcium: 26mg, Iron: 1.4mg