Garlic Steak and Potatoes
Tender steak, beautifully browned potatoes, and plenty of garlic make this quick skillet meal the ultimate comfort food.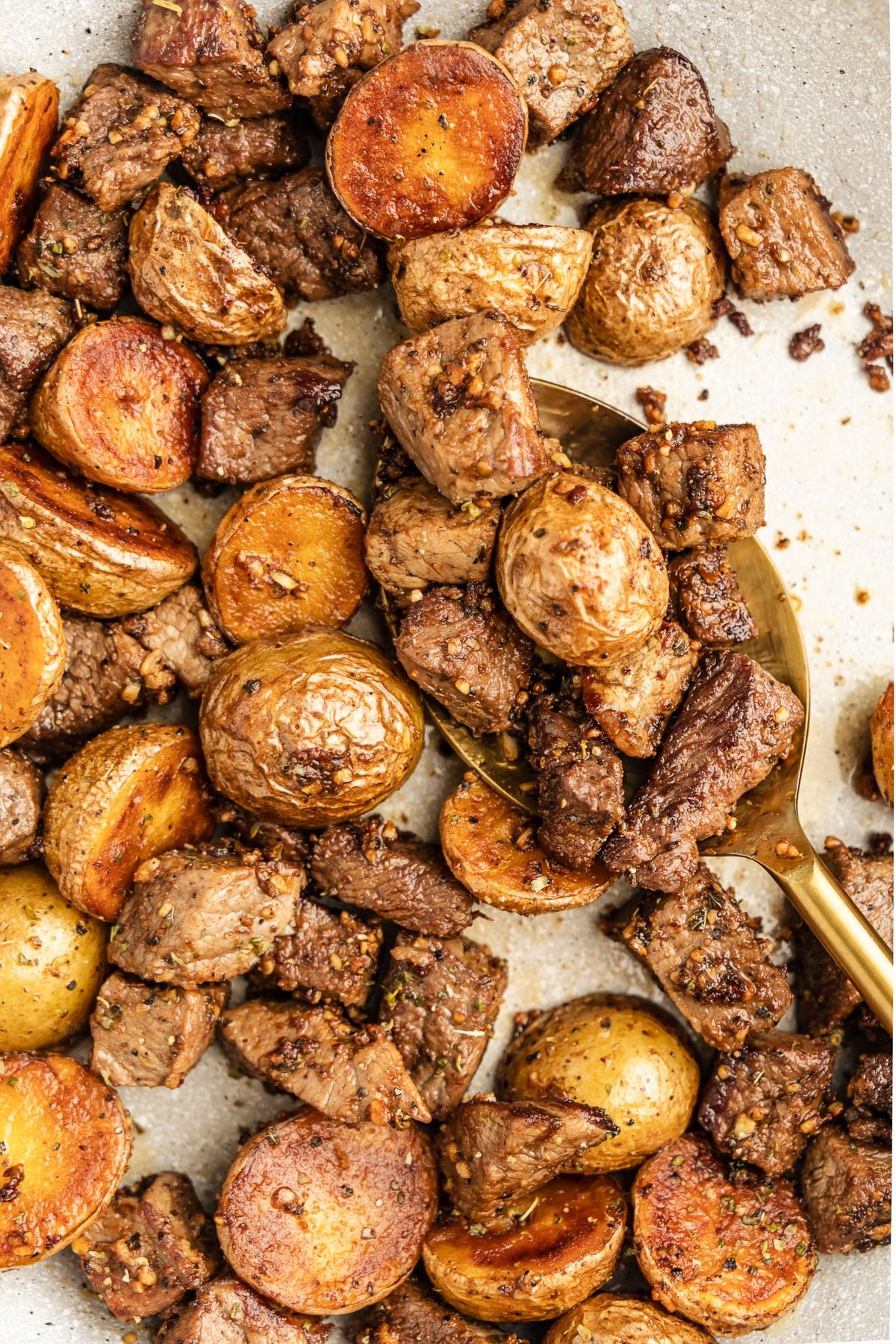 When someone asks me what I would want to eat for my last meal my answer is always "steak with a potato and a caesar salad". I know, talking about a last meal feels like a pretty morbid start to this recipe description, right? My bad. My point is this: I'm a gal who loves steak and potatoes. Always have. Always will.
Unfortunately grilling a steak isn't always an option because (a) the weather may not permit it or (b) I just don't feel like firing up the grill.
My Garlic Steak & Potatoes dish is the solution you need, friend! Suddenly this dreamy flavor combo is easy enough for a weeknight any time of year.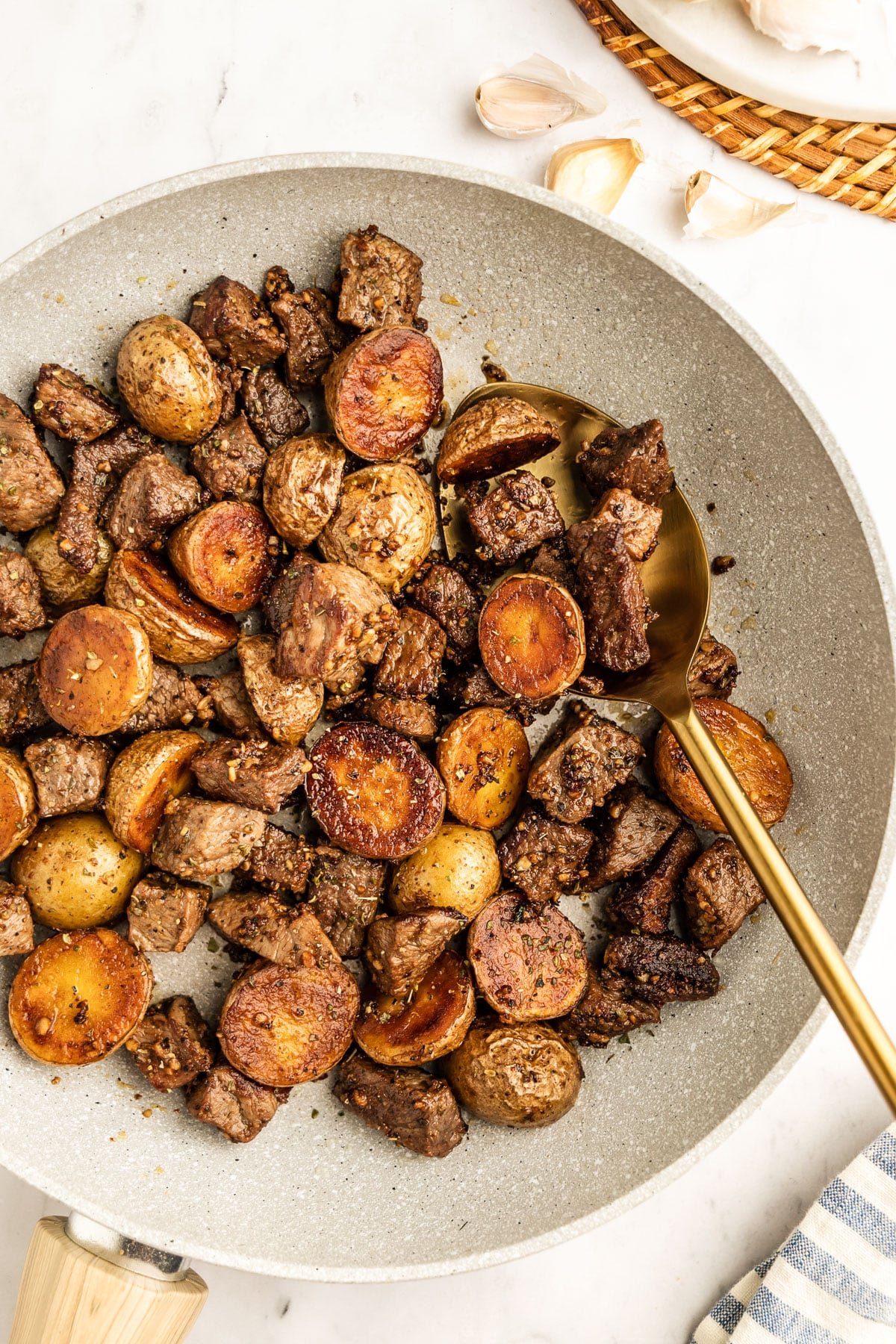 For this recipe you'll need:
Olive or avocado oil
Baby dutch yellow potatoes
Sirloin steak
Ghee or butter
Garlic
Herbs and seasonings
To make this recipe we'll start by cooking the potatoes. It takes a little extra time to get them perfectly tender and it's worth every minute. Add the oil to a large skillet. Once the oil is hot, add your halved baby dutch yellow potatoes. They'll be about 1 – 1 1/2″ in size so larger than we'd use in a hash. Stir occasionally and let those potatoes sauté for 10 to 15 minutes or until tender.
Now move the potatoes over to one side of the skillet. We're going to make room for our steak! We cook the steak separately because we want to get plenty of searing. Add ghee or butter to the empty side. Then the steak pieces go in. Season everything. Cook until steak is how you like it and then stir to combine with potatoes.
So simple! You're going to love this hearty skillet meal!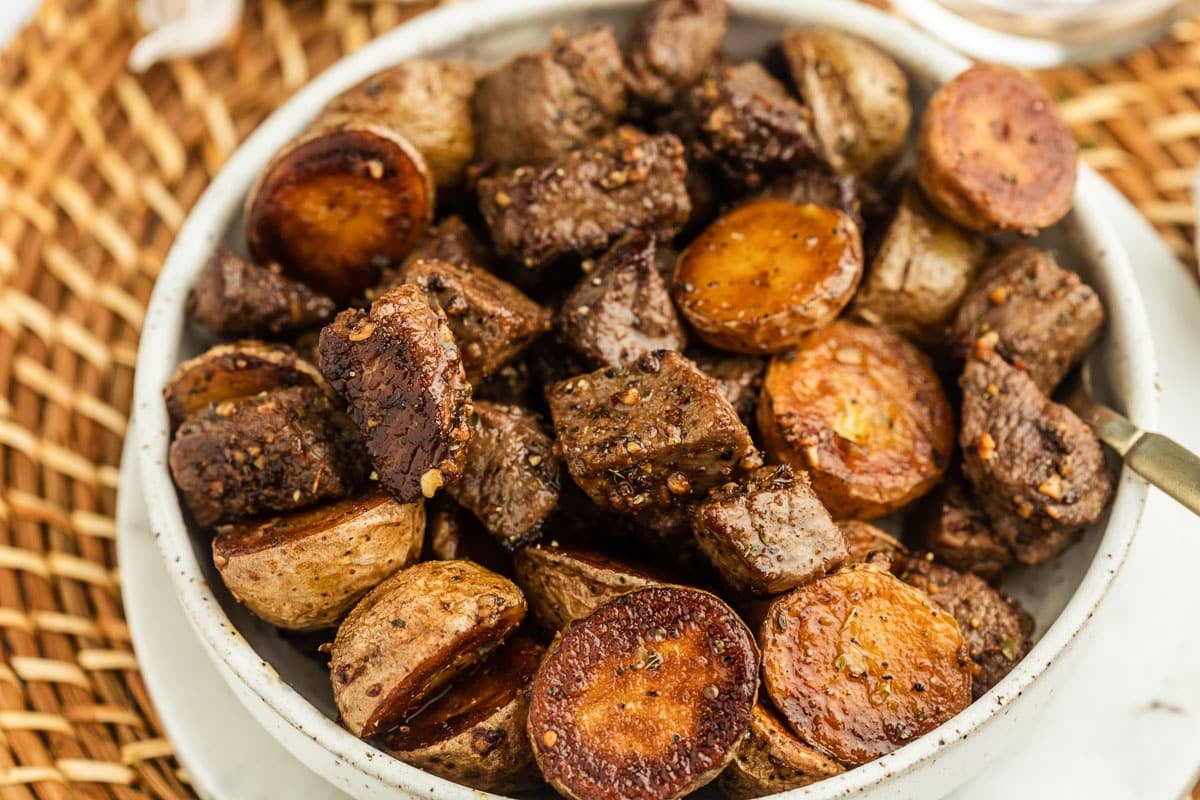 What size skillet should you use?
I recommend an 11 or 12″ skillet for all my skillet meals. You'll be able to accommodate more food in the pan this way which ensures quick and even cooking. Using a skillet that's too small increases your cooking time. It also makes it much more difficult to achieve the browning we want.
My favorite nonstick skillet is this 11″ LeCreuset (affiliate link). They also make a 12″ that I love but it's currently sold out everywhere. I'll link it when it's back in stock. You can find other sizes linked in my Shop.
Can you use a different type of potato?
I recommend baby dutch yellow potatoes for two reasons. First, they're naturally buttery in flavor. Second, they're small so you only need to cut them in half to get the perfect size for pairing with these steak bites.
You can absolutely use a different baby potato or even a larger potato variety if you cut the potato into smaller pieces. Potato pieces should be a little larger than the steak pieces. This isn't intended to be a hash.
What kind of steak is best for this skillet meal?
I like to use sirloin steak here. It's relatively inexpensive and very easy to find! Plus you'll find that it's tender when we cook it this way.
Don't have sirloin steak? Tenderloin will work great!
Can this skillet meal be used for meal prep?
This is an excellent choice for meal prep! It will last for 3 to 4 days refrigerated in an airtight container.
You can quickly reheat Garlic Steak & Potatoes in your microwave. If you have the extra time you might find that you prefer reheating in a skillet on the stove. Both options work well!
How to serve this
Thinking of a green side? I recommend my Spicy Roasted Broccoli, Easy Roasted Broccoli, Balsamic Bacon Brussels Sprouts, Garlic Green Beans, Simple Sautéed Cabbage, Roasted Brussels Sprouts, or Roasted Green Beans with Almonds.
Want to add more color to your plate? These Roasted Ranch Veggies will give you your vegetable fix and look so dang pretty. You'll enjoy these Roasted Parsley Carrots and my Roasted Red Cabbage too.
Garlic Steak and Potatoes
Tender steak, beautifully browned potatoes, and plenty of garlic make this quick skillet meal the ultimate comfort food. Ready in only 30 minutes!
Ingredients
1 1/2 tbsp olive or avocado oil
1 lb baby dutch yellow potatoes, halved
1 tbsp ghee or butter
1 1/2 lb sirloin steak, cut into 1-inch pieces
1 tsp dried oregano
3/4 tsp salt
3/4 tsp garlic powder
3/4 tsp onion powder
1/2 tsp black pepper
1/2 tsp chili powder
2 tbsp garlic, minced
Instructions
Add oil to a large skillet on medium-high heat. Once oil is hot, add the halved potatoes and sauté, stirring occasionally, for 10 to 15 minutes or until potatoes are tender and outside of potatoes are browned.

Move potatoes to one side of the skillet. Add ghee to the empty space. Now add the steak pieces. Season potatoes and steak with dried oregano, salt, garlic powder, onion powder, black pepper, and chili powder. Stir (but keep the steak and potatoes separate.)

Sauté steak on one side until browned, about a minute or two. Then flip, add minced garlic, and cook until steak pieces are how you like them and garlic is golden in color.

Once steak is done, stir steak and potatoes together. Taste and add more salt or extra oregano if desired.