The Best Healthy Soup Recipes
These healthy soup recipes are simple, flavorful, and so ridiculously yummy! Most are ready in only 30 minutes. All are dairy free and gluten free. Many are Whole30, Keto, and Paleo too. Whether you're wanting thick chili, hearty stew, or something light and packed with veggies… I have options for you!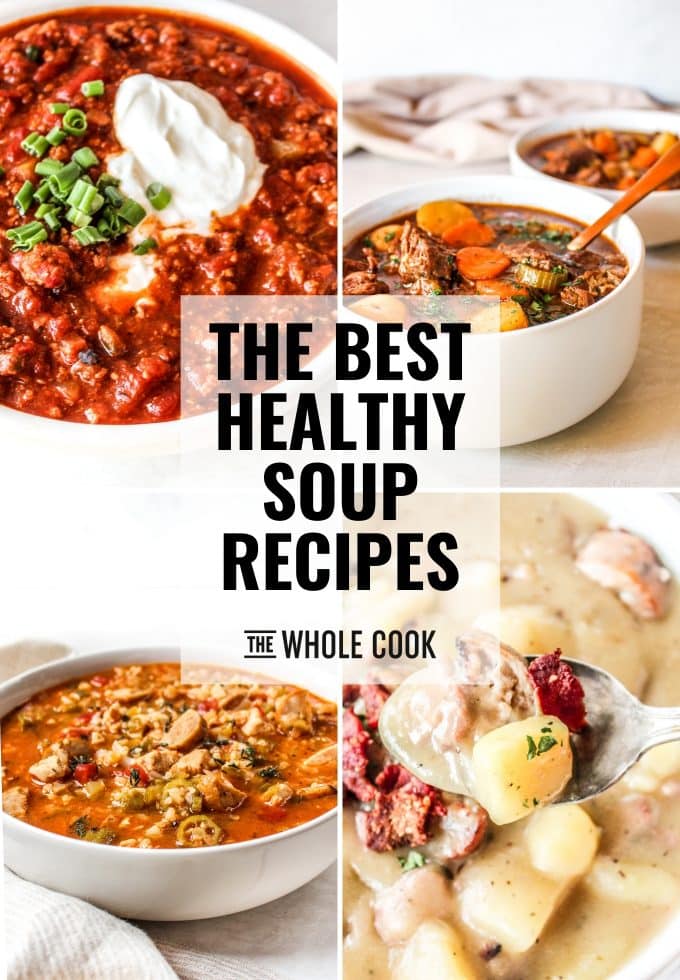 I'm one of those people who crave soup all year long. I definitely don't believe the weather has to be cool for soup! But here we are at the time of year when everyone wants a bowl of soup to warm them up on a chilly evening. Let's celebrate that with some of my favorite soup tips plus all my favorite soup recipes, shall we?
My #1 soup tip
Double that recipe and freeze it!
I love to make a double batch of soup. It's requires very little extra effort – usually just more chopping. Then freeze one batch. This way our freezer is stocked full of quick meals all fall and winter!
How to best freeze soup
Store the finished soup in an airtight container. (I personally like freezer bags because I can lay them flat and stack one on top of the other to maximize my space.) Let your soup completely cool in the refrigerator and then move it to the freezer. Soups can last up to 2 months in the freezer.
How to customize a soup
Soup is the easiest recipe type to customize based on what you have on hand at home. Here are a few of my favorite ways to do that.
Swap chicken thighs for chicken breasts.
Use any fully cooked sausage even if it's a different protein type than what's called for. If a recipe says chicken sausage but you have beef sausage, go for it!
Potatoes are typically interchangeable in soup so you can take your pick between sweet, yellow/gold, russet, or red-skinned even if a soup recipe calls for one you don't have.
Many veggies are also interchangeable in soup. Feel free to use broccoli, green beans, zucchini, squash, or carrots if that's what you have in your fridge.
Add greens! Fresh spinach leaves can always be stirred into soup at the end of the cooking time to amp up your veggie intake. Those leaves wilt quickly so no need to cook them into the soup. Just stir them into the hot broth when you're done.
Stock vs Broth
Stock is typically made from bones while broth is made from a combination of meat and vegetables. Broth tends to be a bit more flavorful but we add so much flavor when we create a soup that both options can work beautifully.
Soup recipes often call for chicken or beef stock. But what if you have broth instead? Use that broth!
By now you're probably craving a bowl of warm soup as much as I am! So here are 20+ of my favorite healthy soups for you to enjoy!
Chicken Sausage Gumbo Soup | Dairy Free + Gluten Free + Paleo + Whole30 + Keto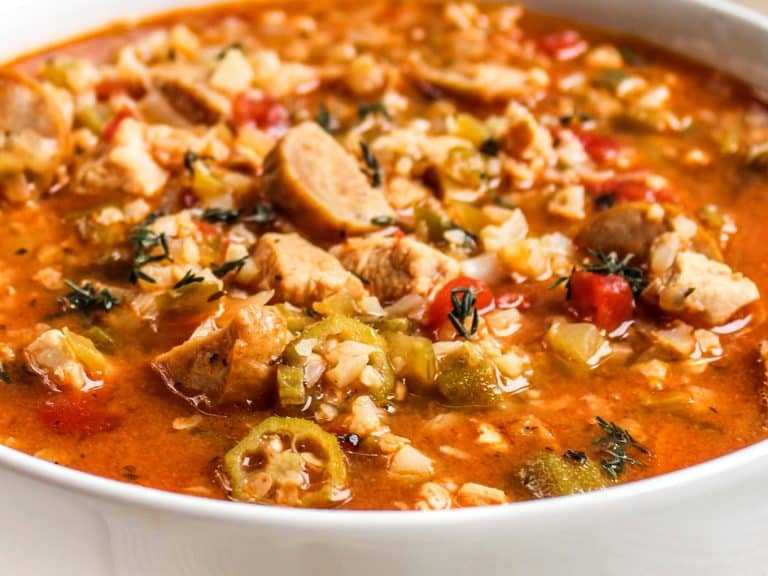 Instant Pot Buffalo Chicken Sweet Potato Soup | Dairy Free + Gluten Free + Paleo + Whole30
The Best No Bean Turkey Chili | Dairy Free + Gluten Free + Paleo + Whole30 + Keto
Creamy Sausage & Potato Soup | Dairy Free + Gluten Free + Whole30
Healthy 30 Minute Hamburger Soup | Dairy Free + Gluten Free + Paleo + Whole30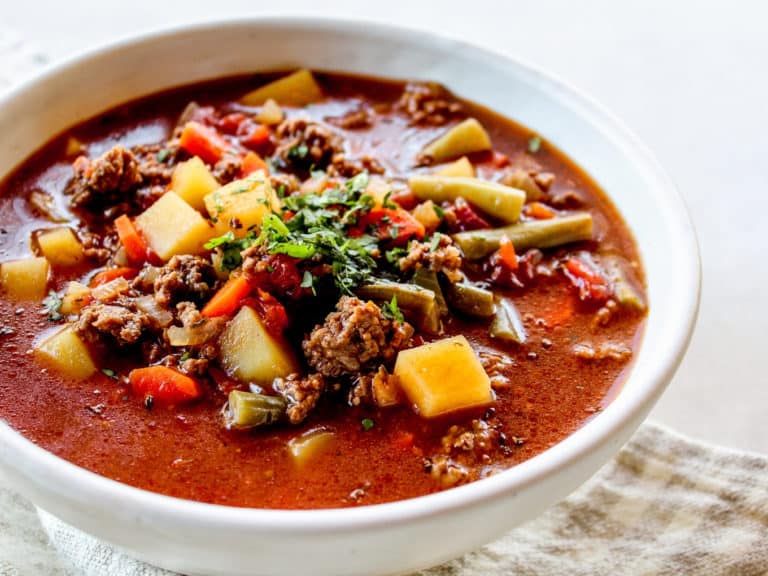 Salsa Verde Chicken Soup | Dairy Free + Gluten Free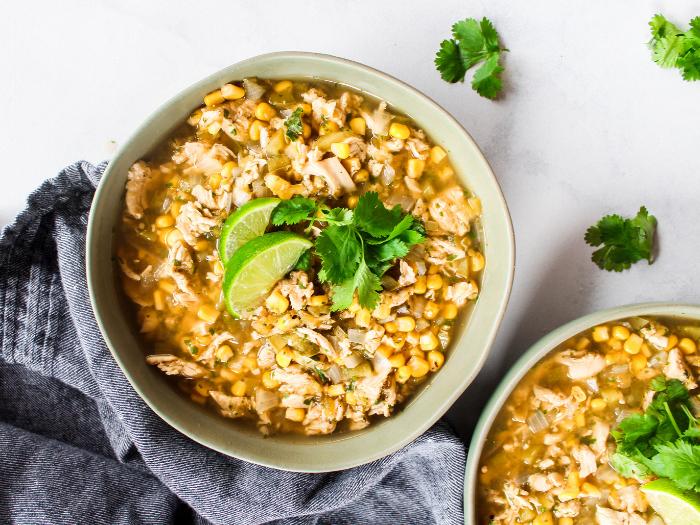 Steak & Sweet Potato Soup | Dairy Free + Gluten Free + Paleo + Whole30
Slow Cooker Chicken Fajita Soup | Dairy Free + Gluten Free + Paleo + Whole30 + Keto
Instant Pot Chicken & Vegetable Soup | Dairy Free + Gluten Free + Paleo + Whole30 + Keto
Instant Pot Beef Stew | Dairy Free + Gluten Free + Whole30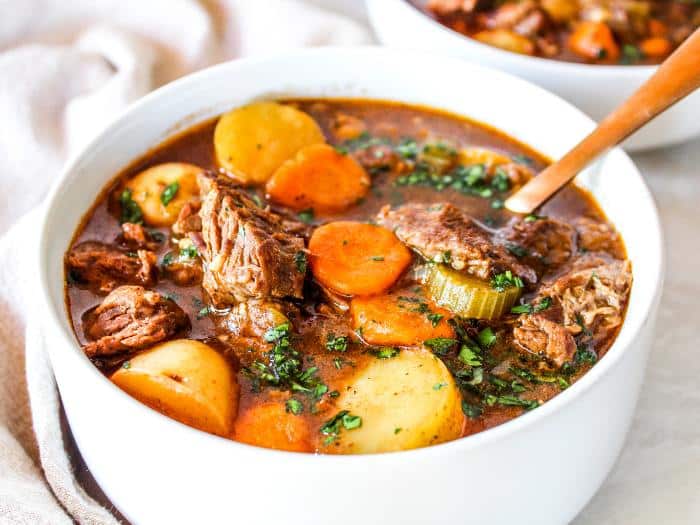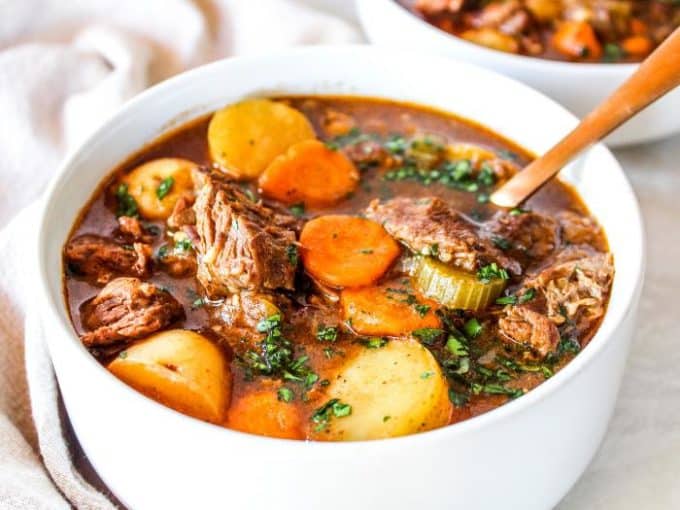 30 Minute Dairy Free Potato Soup | Dairy Free + Gluten Free + Whole30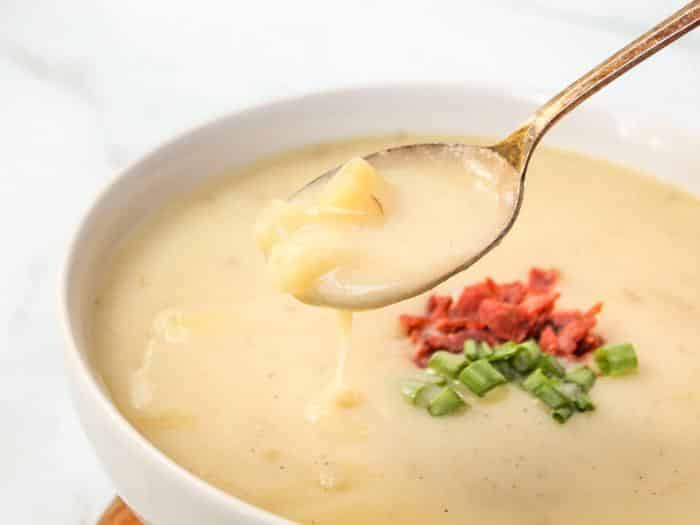 Spicy Sausage & Cabbage Soup | Dairy Free + Gluten Free + Paleo + Whole30 + Keto
30 Minute Lemon Chicken Soup | Dairy Free + Gluten Free + Paleo + Whole30 + Keto
Spicy Chipotle Chicken Chili | Dairy Free + Gluten Free + Paleo + Whole30 + Keto
Slow Cooker Hearty Chicken Stew | Dairy Free + Gluten Free + Whole30
No Bean 30 Minute Chili | Dairy Free + Gluten Free + Paleo + Whole30 + Keto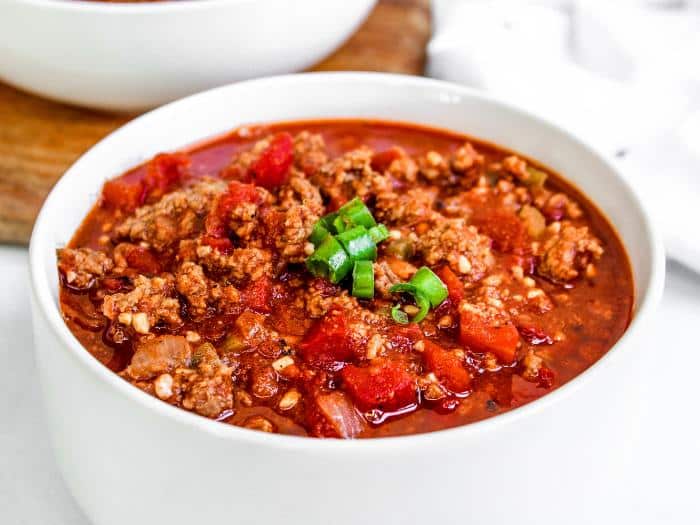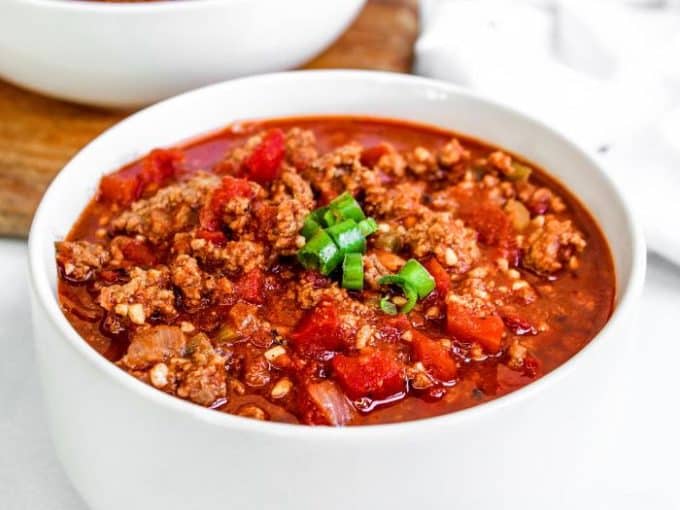 Slow Cooker White Chicken Chili | Dairy Free + Gluten Free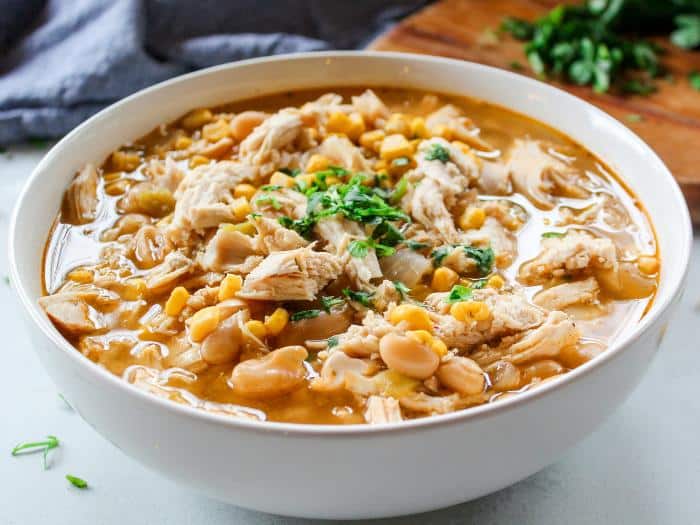 Turkey Meatball & Butternut Squash Soup | Dairy Free + Gluten Free + Paleo + Whole30 + Keto
30 Minute Dairy Free Tomato Basil Soup | Dairy Free + Gluten Free + Paleo + Whole30 + Keto
Chicken Zoodle Soup | Dairy Free + Gluten Free + Paleo + Whole30 + Keto