18 Incredible Whole30 Sides
Tired of the same old dinner? Maybe it's time to switch up your side dishes! I have lots of good for you, gluten free, mostly dairy free (minus some occasional ghee), and Whole30 compliant sides you're going to love!
Sometimes I eat nothing but sides for dinner. Do you ever do that?
Whether you're making a meal out of these sides or just whipping up one or two to go with an entree, these dishes are sure to please.
1. Broccoli Ranch Twice Baked Potatoes
These potatoes knock dinner right out of the park. The skins are beautifully crispy and salty. The inside is a rich and very creamy broccoli ranch mashed potatoes mixture. Yes please!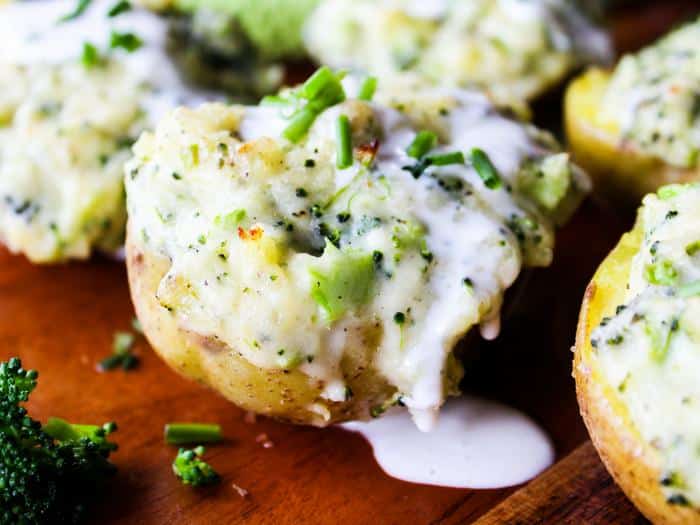 2. Lemon & Thyme Roasted Carrots
These carrots are oh so tender and have an added zing from fresh squeezed lemon juice.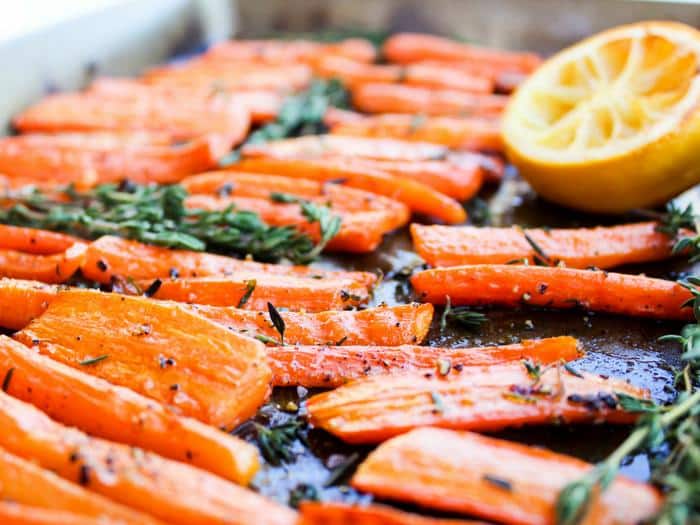 If you love heat you'll enjoy the spiciness of this roasted broccoli. I'm currently making these about three times a week. No joke. I can't get enough of this stuff.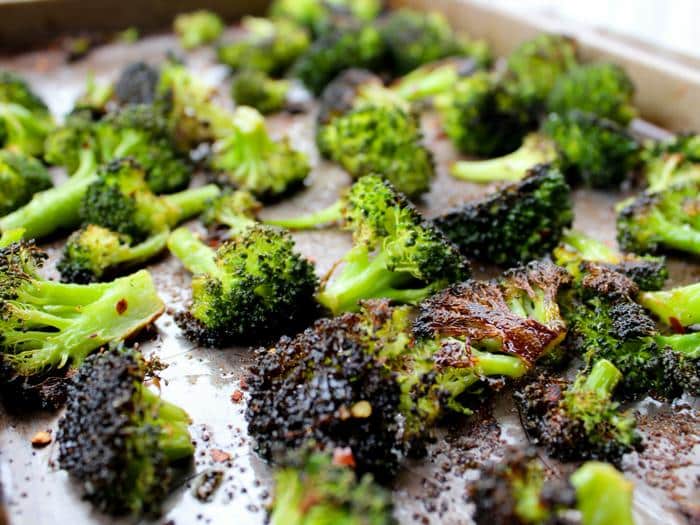 4. Cinnamon Pecan Sweet Potato Rounds
Oh friend, these rounds taste so much like a traditional sweet potato casserole. But there's zero sugar involved so they're completely guilt free!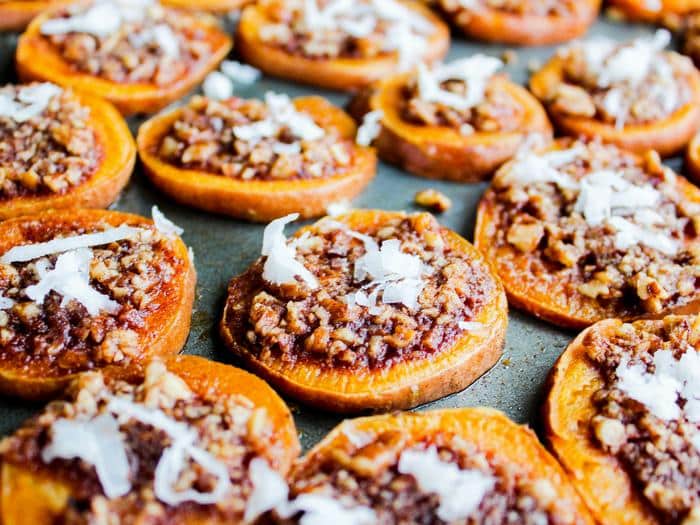 This cauliflower rice bakes in the oven along with pineapple, coconut aminos (like soy sauce but better for you) and bits of bacon (I use turkey bacon). Yum!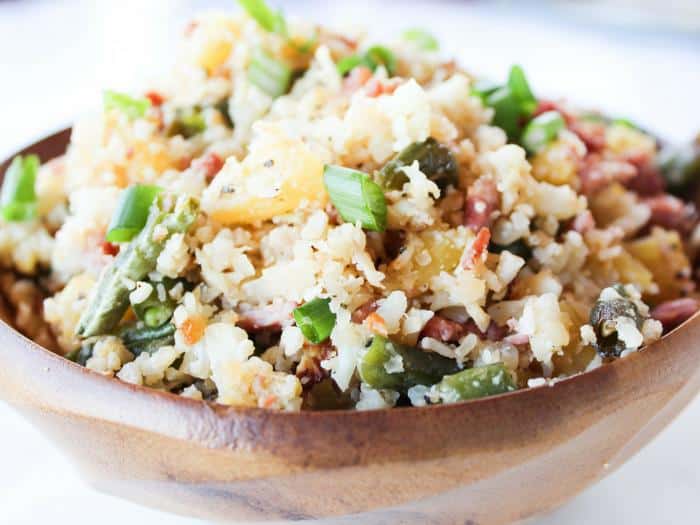 6. Smashed & Roasted Italian Potatoes
Crispy and flavored with lots of seasoning, these babies are crazy addictive!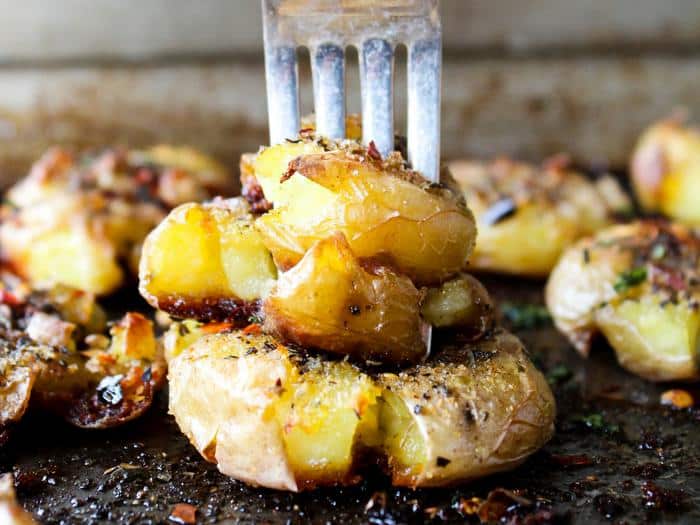 My daughter genuinely believes these are candy. She can eat an entire tray of them in one sitting. She's three. If that's not incentive for you to try them I don't know what is.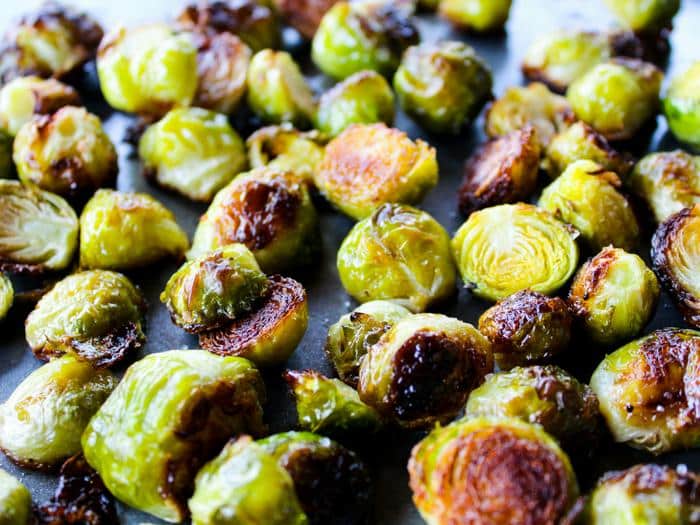 If you're only eating these at breakfast then you're doing it wrong. These potatoes are fast, easy, and tasty at any hour of the day.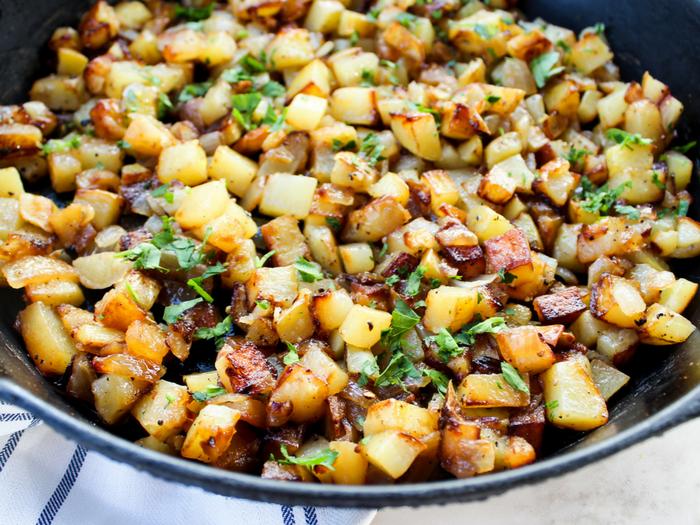 9. Green Beans with Toasted Almonds
Baking these green beans gives them a little extra umph that you don't get in any other cooking method. The crunch of almonds make this recipe extra special.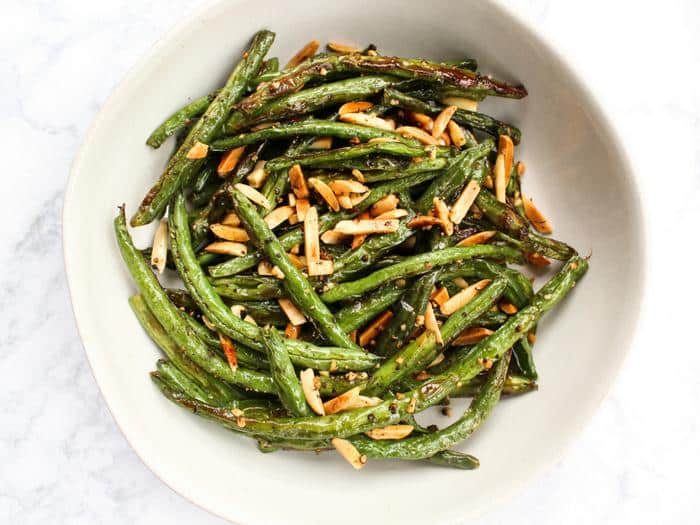 10. Pesto Potatoes & Brussels Sprouts
My dairy free Pistachio Lemon Pesto makes this hearty side simply incredible. That is not an exaggeration. Fill your pesto craving without the pasta!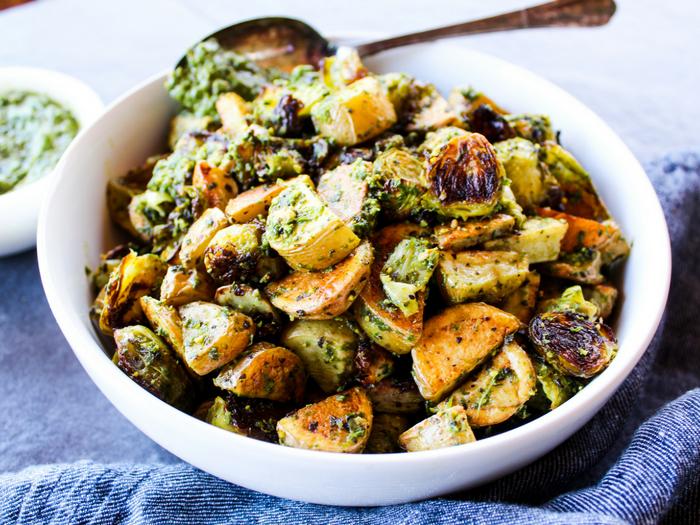 Do you call it red cabbage or purple cabbage? No matter the name it's a severely under utilized veggie. Roast it to bring out the beautiful color and flavor!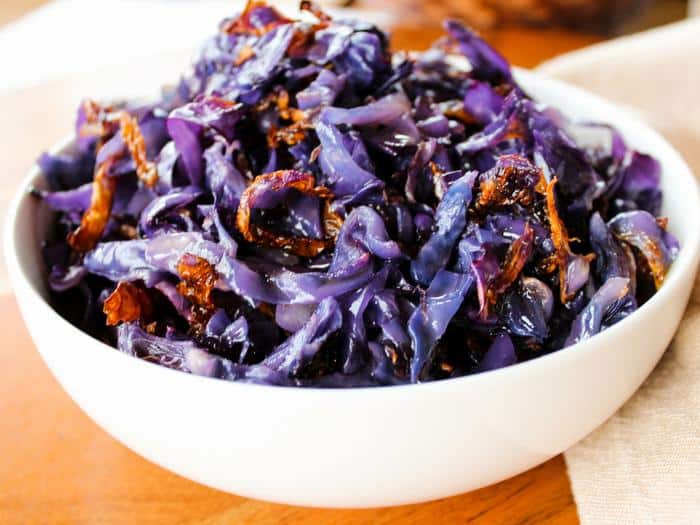 These potato rounds taste buttery but there's absolutely no butter used! Plus they're easy to make. Enjoy them for breakfast or dinner.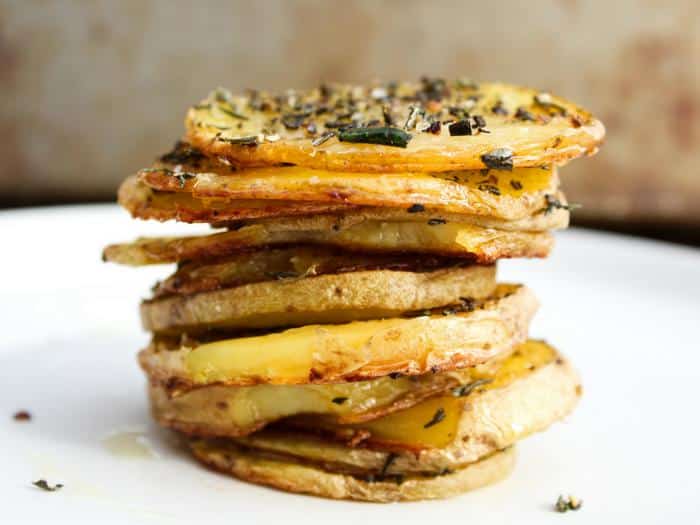 This is the recipe that started my love affair with ghee (clarified butter) years ago. These carrots are incredibly soft and sweet!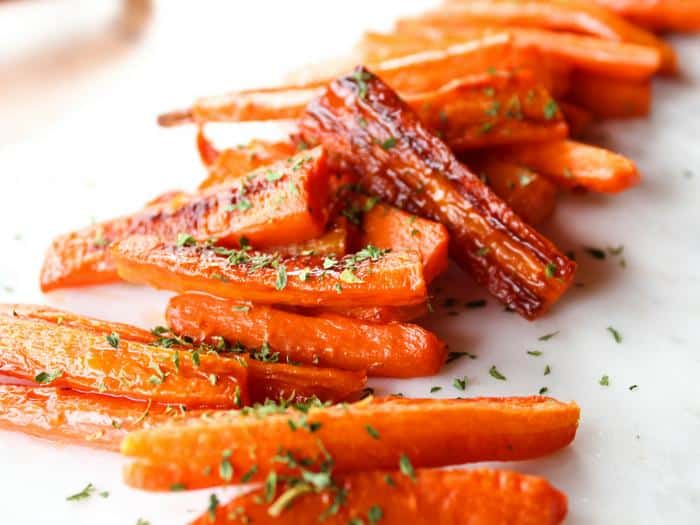 14. Cilantro Lime Cauliflower Rice
Whip up this cauliflower rice instead of traditional rice to lighten up your dinner tonight. It's especially good with fajitas, tacos, or burrito bowls.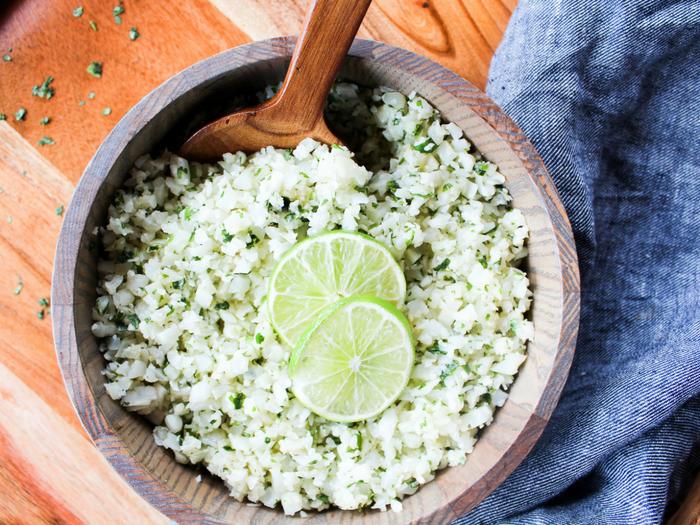 15. Smashed & Roasted Rosemary Garlic Potatoes
Do you love garlic? Me too. These are for you, friend.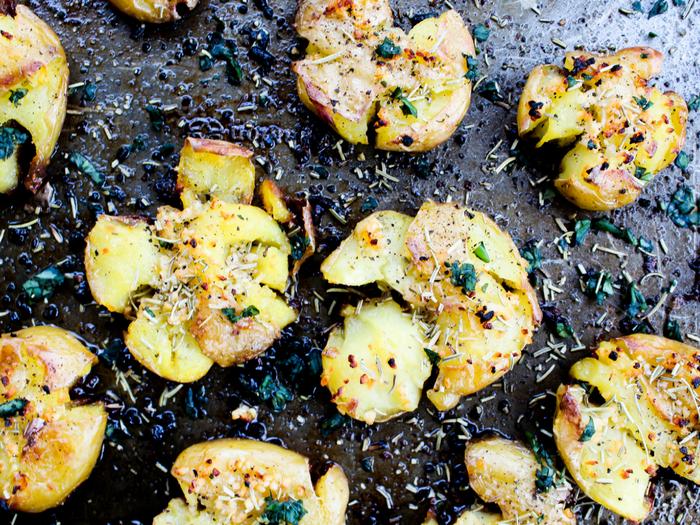 This asparagus is light and ready in 15 minutes! Perfect for weeknight dinners.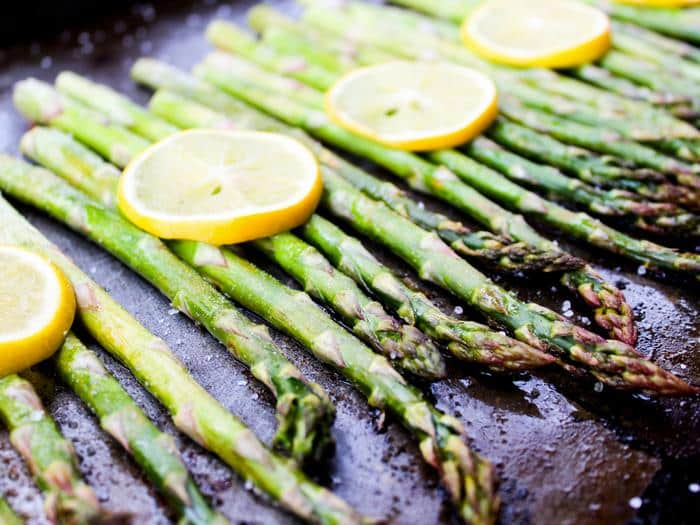 17. Light & Creamy Mashed Potatoes
Mashed potatoes don't have to leave you feeling lethargic and overly full. This lightened up version uses chicken stock to keep it creamy but much lower in calories.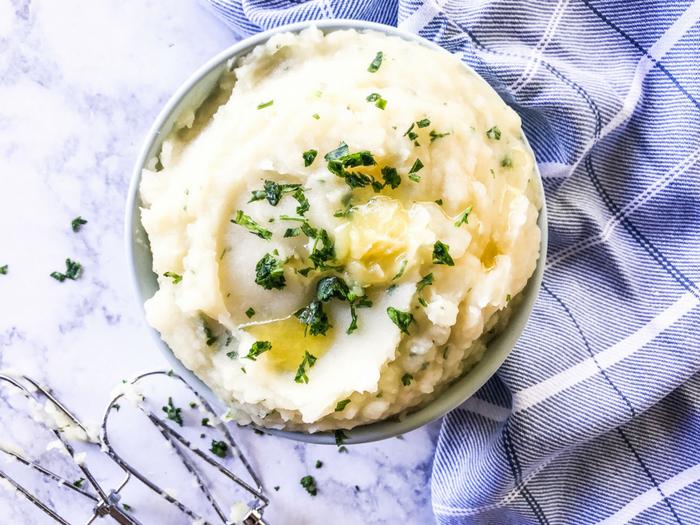 My sister in law can't stand the texture of beans of any kind but she gobbles up these. So obviously you need to try them too.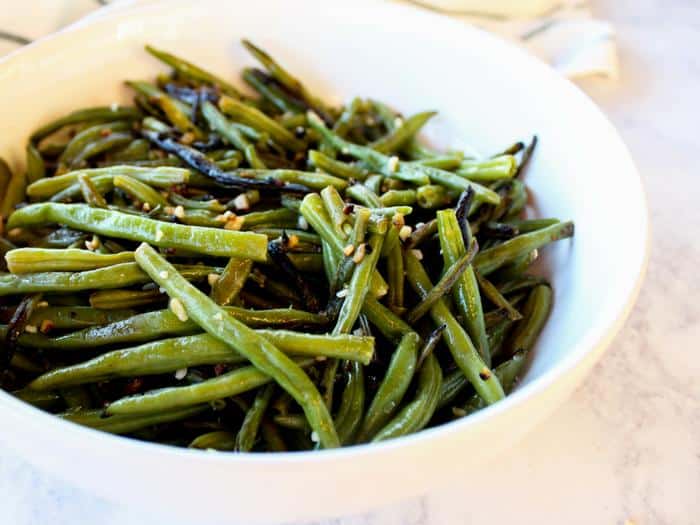 I'd love to know what your favorite side dish is! Let me know in the comments below!
Made one of these and loved it? If you share a photo of your finished product on Instagram tag me so I can check it out! It makes my day to see one of my recipes in the wild! Not that your home is wild, but mine sure is.
For even more side dish ideas feel free to peruse all my sides.