75+ Best Chicken Dinner Recipes
I've rounded up more than 75 reader favorite easy chicken recipes for you. They're all delicious, family approved, and perfect for dinner!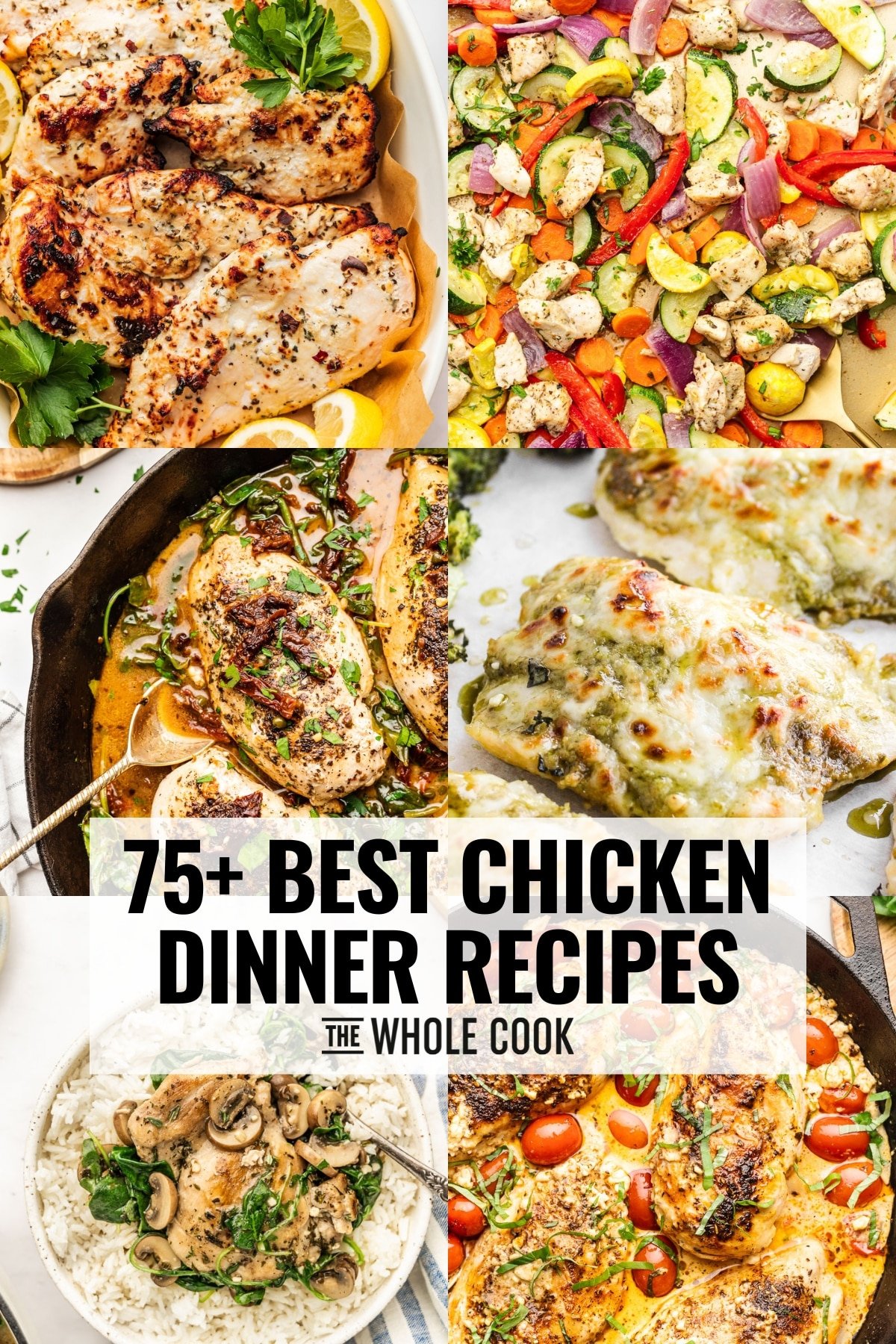 We eat a lot of chicken in my house. It's often my go to protein since everyone loves it and its so versatile. Chicken breasts and thighs are typically the most popular options but I also have recipes for wings and even a whole chicken.
Scroll through for plenty of incredible chicken dinner inspiration.
Baked Chicken Recipes
Everyone loves baked chicken. My personal favorite is Baked Feta Chicken. It cooks in a cast iron skillet in the absolute dreamiest sauce of feta and tomatoes. I promise if you serve this one to guests or family they'll be asking for more.
Surprise! I also have several baked chicken wing recipes we can't forget. Click on any of these below for wings that will have you licking your fingers, friend.
Sheet Pan Chicken Recipes
Sheet pan meals are the easiest solution on a busy weeknight when you want dinner fast! These recipes feature chicken and at least one side. Everything cooks together on a single pan in the oven.
My favorite is the Sheet Pan Pesto Chicken with Broccoli. It uses store-bought pesto and my kids love the mozzarella on top of each chicken breast. Sheet Pan Cashew Chicken is also a longtime reader favorite you should definitely try!
Skillet Chicken Entrees
These entrees are all made on the stovetop in a skillet. While they're all yummy, the Healthy Bruschetta Chicken is extra special thanks to the tomato basil topping! My Coconut Lime Chicken is another popular option. I get so many messages about the sauce!
Chicken Stir Fry + One Pot Meal Recipes
If you're looking for delicious meals you can make in one pot, you'll love these recipes! Everything cooks in one skillet on the stovetop. These recipes are packed full of flavor but require minimal work and clean up! The 15-Minute Italian Chicken and Peas is a sleeper hit that readers rave about! It's just so fast!
Chicken Soup Recipes
It's hard to find a cozier dish than a chicken soup. I have many soup recipes which feature chicken. Some are hearty and some are light. Peruse this list and find the one that best satisfies your current craving!
Slow Cooker + Instant Pot Chicken Recipes
The slow cooker and the instant pot make it easy to prepare healthy meals with minimal work. Just add the ingredients and let them work their magic!
Air Fryer Chicken Recipes
These air fryer chicken recipes are fast, easy, and made with very little oil! I'm obsessed with the Yogurt Marinated Air Fryer Chicken and bet you will be too. I love to make the Air Fryer Chicken Breasts for meal prep.
Grilled Chicken Recipes
Grilling is an easy way to prepare healthy chicken entrees while enjoying some time in the sunshine. These grilling recipes are flavorful, family friendly, and perfect for entertaining!
Dinner Salads with Chicken
A veggie-packed salad with chicken is a super way to get plenty of greens into your diet. These salads are simple and loaded with fun toppings! Use leftover chicken or a store-bought rotisserie chicken to make them extra fast to prepare.